PediaSure® Enteral 1.0 Cal with Fiber
Complete Balanced Nutrition® with added fiber for tube-feeding
PediaSure Enteral 1.0 Cal with Fiber is a source of complete, balanced nutrition specially formulated for the tube-feeding of children ages 1-13 years. It may be used as the sole source of nutrition or as a supplement.
Features of PediaSure Enteral 1.0 Cal with Fiber include:
1.0 Cal per mL (240 Cal per 8 fl oz) from a balanced distribution of protein, fat, and carbohydrates.
Meets or exceeds 100% of the Dietary Reference Intakes (DRIs) for protein and 25 essential vitamins and minerals for children ages 1-8 years in 1000 mL and for children ages 9-13 years in 1500 mL.
A blend of soluble and insoluble fibers and short-chain fructooligosaccharides at a level well tolerated by children.
Prebiotics designed to support digestive tract health and antioxidants* to support the immune system.
Halal, Kosher, gluten-free, and suitable for lactose intolerance.
PRECAUTIONS:
Not for IV use. Not intended for infants under 1 year of age unless specified by a physician. Not for children with galactosemia.
* Vitamins C, E, and selenium.
Use under medical supervision.
PediaSure® Enteral 1.0 Cal with Fiber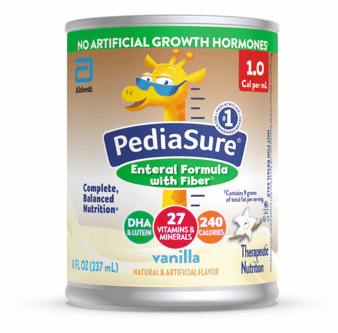 Nutrition Information
Serv. Size: 1 bottle (8 fl oz)
Volume, mL: 237

Protein, g: 7

Fat, g: 9

Saturated Fat, g: 2.5

Trans Fat, g: 0

Polyunsaturated Fat, g: 2.5

Monounsaturated Fat, g: 3.5

Cholesterol, mg: 5

Carbohydrate, g: 34

Dietary Fiber, g: 3

scFOS®, g: 1.7

Total Sugars, g: 7

Added Sugars, g: 7

L-Carnitine, mg: 4.0

Taurine, mg: 18

Water, g: 200

Calories: 240
* Percent Daily Values (%DV) are based on a 2,000 Calorie diet.
Frequently Asked Questions
Want to know more? Click on the link below for FAQs about PediaSure Enteral 1.0 Cal with Fiber.
LEARN MORE >
Vitamins and Minerals
Amount per serving

Vitamin A, mcg RAE:

140

Vitamin D, mcg:

6.0

Vitamin E, mg:

3.0

Vitamin K, mcg:

18

Vitamin C, mg:

23

Folate, mcg DFE:

60

Folic Acid, mcg:

36

Thiamin (Vitamin B1), mg:

0.30

Riboflavin (Vitamin B2), mg:

0.33

Vitamin B6, mg:

0.34

Vitamin B12, mcg:

0.48

Niacin, mg NE:

3.2

Choline, mg:

80

Biotin, mcg:

8.0

Pantothenic Acid, mg:

1.3

Inositol, mg:

20
Amount per serving

Sodium, mg:

90

Potassium, mg:

470

Chloride, mg:

230

Calcium, mg:

330

Phosphorus, mg:

250

Magnesium, mg:

40

Iodine, mcg:

23

Manganese, mg:

0.46

Copper, mg:

0.14

Zinc, mg:

1.7

Iron, mg:

2.7

Selenium, mcg:

8.0

Chromium, mcg:

9.0

Molybdenum, mcg:

9.0
Ingredients
Water, Corn Maltodextrin, Blend of Vegetable Oils (High Oleic Safflower, Soy, Medium Chain Triglycerides), Milk Protein Concentrate, Sugar, Soy Protein Isolate, Short-chain Fructooligosaccharides. Less than 0.5% of: Vitamins & Minerals (Potassium Phosphate, Calcium Carbonate, Potassium Chloride, Potassium Citrate, Calcium Phosphate, Ascorbic Acid, Choline Chloride, Ferrous Sulfate, dl-Alpha-Tocopheryl Acetate, Zinc Sulfate, Niacinamide, Calcium Pantothenate, Manganese Sulfate, Thiamine Hydrochloride, Pyridoxine Hydrochloride, Riboflavin, Vitamin A Palmitate, Copper Sulfate, Magnesium Phosphate, Folic Acid, Chromium Chloride, Potassium Iodide, Sodium Molybdate, Sodium Selenate, Biotin, Phylloquinone, Vitamin D3, Vitamin B12), Oat Fiber, Soy Fiber, Natural & Artificial Flavor, Gum Arabic, Cellulose Gel, Tuna Oil (Source of docosahexaenoic acid [DHA]), Cellulose Gum, Soy Lecithin, Monoglycerides, Carrageenan, Salt, Potassium Hydroxide, Inositol, Taurine, L-Carnitine, and Lutein.
Contains milk and soy ingredients.
Contains Milk Ingredients|Contains Soy Ingredients|Gluten-Free|Halal|Kosher Dairy|Suitable for Lactose Intolerance|Not for Galactosemia