PediaSure® Peptide 1.5 Cal
Complete nutrition for kids with GI conditions
PediaSure Peptide 1.5 Cal is a nutritionally complete, peptide-based formula for the nutrition needs of children ages 1-13 years with malabsorption, maldigestion, and other gastrointestinal conditions. It is designed to meet the nutrition needs of kids who require higher caloric density, have fluid restrictions, and are at risk for malnutrition. It is for oral or tube-feeding and may be used as the sole source of nutrition or as a supplement.
PediaSure Peptide 1.5 Cal:
Meets or exceeds 100% of the Dietary Reference Intakes (DRIs) for protein and 25 essential vitamins and minerals for children ages 1-8 years in 667 mL and for children ages 9-13 years in 1000 mL.
Is Halal, Kosher, gluten-free, and suitable for lactose intolerance.
PRECAUTIONS:
Not for IV use. Not intended for infants under 1 year of age unless specified by a physician. Not for children with galactosemia.
For children 14 years or older, Vital® Peptide is a nutritionally complete peptide-based formula designed with their needs in mind. You can buy it here.
Use under medical supervision.
PediaSure® Peptide 1.5 Cal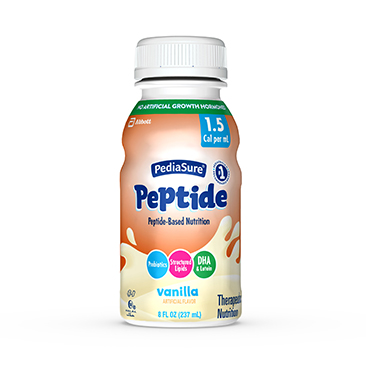 Nutrition Information
Serv. Size: 1 bottle (8 fl oz)
Protein, g: 10.7

Fat, g: 14.4

Saturated Fat, g: 8

Trans Fat, g: 0

Polyunsaturated Fat, g: 1.0

Monounsaturated Fat, g: 2.5

Cholesterol, mg: 15

Carbohydrate, g: 47.6

Dietary Fiber, g: 1<sup>*</sup>

Total Sugars, g: 2

Added Sugars, g: 2

L-Carnitine, mg: 6.0

Taurine, mg: 45

Water, g: 182

Calories: 356
* Percent Daily Values (%DV) are based on a 2,000 Calorie diet.
Frequently Asked Questions
Want to know more? Click on the link below for FAQs about PediaSure Peptide 1.5 Cal.
LEARN MORE >
Vitamins and Minerals
Amount per serving

Vitamin A, mcg RAE:

200

Vitamin D, mcg:

5.9

Vitamin E, mg:

3.7

Vitamin K, mcg:

24

Vitamin C, mg:

36

Folate, mcg DFE:

180

Folic Acid, mcg:

107

Thiamin (Vitamin B1), mg:

1.0

Riboflavin (Vitamin B2), mg:

0.80

Vitamin B6, mg:

1.0

Vitamin B12, mcg:

2.1

Niacin, mg NE:

7.6

Choline, mg:

120

Biotin, mcg:

30

Pantothenic Acid, mg:

3.6

Inositol, mg:

47
Amount per serving

Sodium, mg:

255

Potassium, mg:

710

Chloride, mg:

360

Calcium, mg:

500

Phosphorus, mg:

380

Magnesium, mg:

60

Iodine, mcg:

35

Manganese, mg:

0.7

Copper, mg:

0.2

Zinc, mg:

4.3

Iron, mg:

5.0

Selenium, mcg:

12

Chromium, mcg:

14

Molybdenum, mcg:

14
Ingredients
Water, Corn Maltodextrin, Structured Lipid (Interesterified Canola Oil & Medium Chain Triglycerides), Whey Protein Hydrolysate, Hydrolyzed Sodium Caseinate, Medium-Chain Triglycerides, Short-chain Fructooligosaccharides. Less than 0.5% of: Vitamins & Minerals (Calcium Phosphate, Potassium Citrate, Potassium Chloride, Potassium Phosphate, Magnesium Phosphate, Calcium Carbonate, Sodium Citrate, Ascorbic Acid, Choline Chloride, Ferrous Sulfate, Magnesium Chloride, Zinc Sulfate, dl-Alpha-Tocopheryl Acetate, Niacinamide, Calcium Pantothenate, Manganese Sulfate, Thiamine Hydrochloride, Pyridoxine Hydrochloride, Riboflavin, Copper Sulfate, Vitamin A Palmitate, Folic Acid, Biotin, Potassium Iodide, Chromium Chloride, Sodium Selenate, Sodium Molybdate, Phylloquinone, Vitamin D3, Vitamin B12), Canola Oil, Artificial Flavor, Cellulose Gel, Soy Lecithin, Tuna Oil, Inositol, Taurine, Cellulose Gum, Potassium Hydroxide, Acesulfame Potassium, Sucralose, L-Carnitine, and Lutein.
Contains milk and soy ingredients.
Contains Milk Ingredients|Contains Soy Ingredients|Gluten-Free|Halal|Kosher Dairy|Not for Galactosemia